Decorate the kitchen has become a healthy habit. Thus, you should try to move from simply equip the kitchen with the available easy and cheapest option to study the best kitchen furniture to integrate to your kitchen decor, without neglecting the functionality.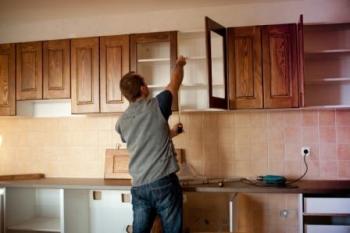 Furnishings for kitchen decor
To guide you a little more about how to design your kitchen, we will tell you about some kitchen furniture for different decorative styles.
Traditional kitchen furniture
If you want to decorate the kitchen in a traditional style, you should choose wood furniture, classic and elegant lines in dark colors, with details of carved moldings and handles of bronze or some kind of metal.
Modern kitchen furniture
The modern kitchens tend to use comprehensive furnishing of pure forms and defined, oriented minimalism. While wood is still the material of choice, no place for the laminated wood, glass, stainless steel and plastic, putting aside the traditional colors and find vibrant colors furniture. Minimalist kitchen furniture
Simple kitchen furniture predominates in the horizontal on the vertical. Therefore, shelves and cupboards are elongated, with a design based on the lightness and levity. Also, the black and white and intermediate grays are the typical colors for minimalist kitchen furniture.
Rustic kitchen furniture
The wooden kitchen furniture is preferred and perfect to the rustic kitchen. The predominance of warm and natural colors achieved a very cozy space where the art of cooking becomes a means for the pleasure of tasting extended by the warm environment.
Retro kitchen furniture
If you are one of those who prefer the retro decor and with air kitsch, there are several choices of furniture that perfect with this style such as the laminate kitchen furniture, with cabinets of very striking colors, with a fun design and reminiscent pop.
Furniture for kitchen transition
Here there is not much mystery; it is combination of classic and modern according to your tastes. The kitchen furniture with classic lines brings great warmth to your kitchen, in balance with stainless steel surfaces and glass, and the presence of artifacts of modern designer kitchen. It is a very balanced decision to satisfy as many tastes.
These examples of kitchen furniture that will help you plan the remodeling of your kitchen or change your decor according to your preferences.