Valentine's Day is an occasion to celebrate love. In addition, our imagination comes into play in several ways, and even encourages us to look for new ways to decorate the house decorative candles. As we are part and echo this date, we offer a number of decorating ideas for Valentine's Day with candles.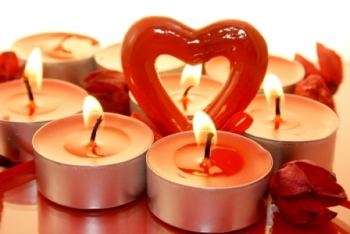 How to decorate with candles on Valentine
The decorative candles play a key role when it comes to providing spaces a sense of warmth. Not only are they decorative ways pleasing to the eye, but that foster a cozy space, which also provide delicious fragrance, if you have decorative scented candles.
If you want romantic candle ideas to decor for Valentine, you must consider the different places where using them. If planning a romantic dinner, included in the table decoration is almost an obligation. There are centerpieces candle, but you can also use special candles for this romantic evening.
You can also use candles to decorate the hall and the living room for Valentine, and even use them in the bedroom, if you want to decorate the room for a romantic evening. And do not forget that you can use candles to decorate the bathroom, adding pluses to spend time relaxing, yet stimulating, time in the tub.
Types of candles for Valentine
There are endless types of candles to decorate Valentine's Day. Varying shapes, sizes, colors, and may also be aromatic or not. Although whatever the case may suffice a single candle accompanied by certain additional decorative details to fulfill its essential role in this romantic evening. Surround them with a simple red ribbon, decorated with a subtle red glitter heart-shaped or simply preparing an array of candles accompanied by flowers or rose petals as there are a few ways to make special candles.
Another possible suggestion is the floating candles decoration. To do this, you can use from a single cup to a bowl, but there are special containers or heart shaped small glass candle holders decorated with hearts. Without doubt, the latter are ideal to celebrate the day of love.
Of the many ideas for decorating candles on Valentine's Day, we gave only a handful of them, in a sort of mini-guide to decorating with candles for a romantic evening. The rest is just putting a little imagination.