If you have a small living room, you might think that it is very difficult to decorate living room, but the opposite is true as the fact that a small space does not mean you cannot have style. If you also take into account the following tips that we give you on how to decorate small living room will be able to transform this space with a few arrangements.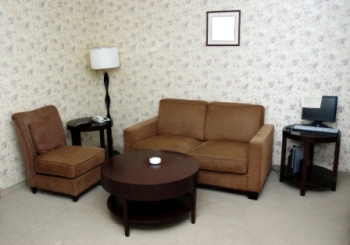 Decorating small living room
The decoration of a small living room should not become a headache rather considerable lucky, since for few changes you can get the appropriate decor for this space.
So the first thing you should do is a list to predetermine how you are going to arrange and decorate the living room. To do this planning, keep in mind the following features and avoid some of the common mistakes when decorating the living room.
Choose the right colors
We know that colors have the ability to completely change any environment. For a small space it is best to choose light colors or cold. As for ceilings, choose a color that is a shade lighter than the walls or you can paint it white.
Consider the minimalist
Even if you are lover of a particular decorating style, the best in decorate a small living room is that of the minimalist design. This does not mean you cannot make use of ornaments or accessories, but you must maintain the minimum number of these in the living room so you do not take up space. The same applies to the colors or designs you may have in the curtains or carpets, it is better to opt for pastel shades and you avoid the use of ornate designs, since the idea is to achieve breadth in that space.
Use small furniture
For a small living is best to use small furniture and that they are functional, i.e., there have compartments where you can store various objects, the light colored furniture is appropriate. Similarly you should choose small furniture to suit the size of the living room, thus you can move freely in the room.
Adequate lighting
A small living room should have sufficient lighting to create the feeling of spaciousness, so in addition to the ceiling light, it is good to use small lamps in different areas, or you can make use of mirrors to expand the space, you must place them in areas where the light is reflected.
Control the clutter
A small living room in itself will be even smaller if you keep it messy, because the elements that are out of place takes away space to the room. That is why you must keep order to free up space.
Keep in mind these tips for decorating small living room and make your living room very enjoyable.