We all know that decorating living room or renovate the room is very challenging. But there are elements and very subtly ornaments that can lend a hand in decorating: such is the case of decorative pillows.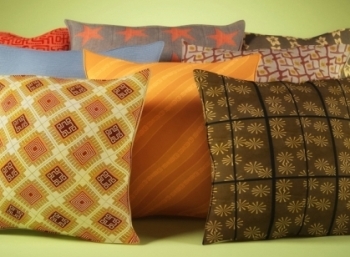 You'll find all kinds of cushions to decorate that will suit almost every room in the house and decorating style of your choice, with a variety of colors, patterns, shapes, and textures. Alone or in combination with other textiles, complementary or contrasting with the dominant color palette, we are going to show you decorative pillow designs so that how the modern decorative pillows can be used in relation to the interior design of your home.
How to decorate with cushions?
Some people to decorate with cushions prefer pads that repeat some of the tones present in the rest of the room decor. It may be a pattern or color palette, repeating tones and shades design or subtle ways of playing some of the colors of a painting that decorate the wall.
For example, the cushions may follow the criteria complement the room decor very subtly even though it does not seem. There is a striped cushion that matches the pattern of the carpet while making some of the colors in the room: the blue or purple tapestry of one wall. Thus we can see that the decorative pillows are more important than it may seem at first glance.
How to enhance spaces with decorative pillows
Of course there are also people who prefer decorative cushions comply with the mission to enhance the decor of a room with bright colors or unusual patterns. These colors can be set to spaces that are looking for a neutral decor, as may well happen in the modern home interiors, minimalist, in which the colors appear to concentrate in certain smaller areas or particular objects such as these decorative pillows modern.
For example, in a decorated living room in minimalist style, it is unusual to find a predominance of white, black and gray in the furniture, walls and floors. However, the decorative pillows in vibrant colors offer a moderate impact that serves to enliven the space, deconstruct and remove all traces of monotony.
Decorative pillows for cozy spaces
The motifs, patterns and colors of the decorative pillows are various, as well as the size and shape and adapt all decorating styles, sharing the chromatic features of space as contrast with other colors and patterns.
Although there is something beyond the colors and designs: decorating with pillows is a way to make a space more cozy and warm. Here we offer you making decorative pillows ideas that comfort and delicate, fluffy support and the ability to break with convention and use them to get comfortable on the floor, on the carpet, sheltered with a blanket.