The yellow interior decoration is one of those forgotten tones at interior decor and the color is used only as a supplement. But this interior decorating color has the ability to enhance any space, it can give a feeling of space and light, while ideal for almost all styles of home interior decor, and you can combine it with most of the tones used in the accessories to decorate. Dare and change your home using these interior decorating color ideas in yellow.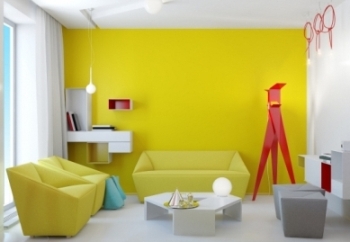 How to decorate in yellow
The idea to use the yellow color at interior decoration is to take the range of colors that belong to this tone and make combinations.
Likewise, you can also combine with other colors that are both complementary and contrasting (depending on your taste). Among these we have the orange, brown, white, black, electric blue, red, and green, among others.
To decorate the living room with an original painting, the walls should be with a combination of pale yellow and turquoise. You can see that turquoise is the dominant color on the walls (you can paint two or three walls) and the touch of yellow is subtle (one or two walls or ceiling only). To further integrate the color yellow if it is preferable that you use it in accessories like cushions or to decorate furniture fabrics.
But if you prefer more subtle colors, or if your house is small, the combination of yellow and green pastel is ideal. Follow the directions above to make this palette work.
Ideas to decorate the kitchen
Place tiles in your kitchen that combine various shades of yellow (or yellow and other color) and make rows form a pattern with these tones. You can add curtains or tablecloths with yellow or simply opt for ornaments (bowls, vases, table, napkins, chairs, etc.) in this color. The idea is to integrate the yellow scale varying according to your tastes.
A touch of yellow for the bathroom
If in your house you have a small bathroom there is nothing better than giving life decorating with yellow, choose a shade for the walls that is compatible with your bathroom furniture, and complements the decor with white accessories.
Improve the illumination
If you have a source of natural light and want to take ownership simply place shades of yellow, this color has the ability to reflect light and help you get any room look brighter and therefore more extensive.
Now you can dare yellow decor with these interior decorating ideas in yellow.