The library or bookstore is a space where we use to visit. That's where we work, but also where other worlds emerge. So to make designs and library decoration that favor this effect we get from the books are very important. You can follow some of these library decorating ideas to get a cozy home library.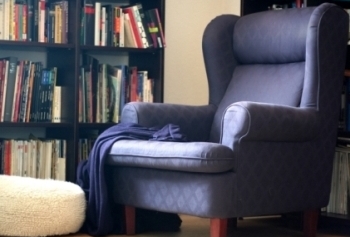 Decoration in red and brown
Red is a color that at first glance can be very stimulating and perhaps inappropriate to decorate library, as it is a place where the concentration to devote ourselves to reading is fundamental. However, red decorate using bass and use the brown, in combination with other tones and natural materials can be quite adequate. Luxurious leather armchairs, upholstered cross-linked tone ceramic floors and decorative plants are an excellent choice for decorating the library.
Serene and cozy decor
To achieve a well used calm and mostly clear neutral color, you are recommended a mixture of gray and golden ocher, for while not losing the elegance in the library decor.
If you want to make your library a space of essentially cozy and warm, need the materials for shelves and furniture, such as wood, preferably dark tones. Leverages corners and define areas of reading to be particularly intimate.
For this style, the upholstery on the walls is very important with graphic textures that will add more feeling to the space. The carpets also reinforce the strength on the floor of your library.
More than a library
If the space that you have is very large, you can create different areas in the same space. So you can set aside an area for reading, another to work and perhaps another one to rest. It's a good idea to organize the library so that everything does not mix, and that each of the activities is possible to perform optimally and separately. You can also use separations with cabinets, partitions or glass doors to win in each zone independently.
Library lighting
General lighting should be good, with great presence of natural light. The lamps should emphasize the areas of reading, to display the text in the right way. The rest of it is rather an intimate and friendly, especially. Also, the chairs can be accompanied by floor lamps for those who prefer a more relaxed kind of reading.
You see, to decorate library is essential to create a welcoming atmosphere. A good shelf where you can put all your books, a comfortable chair or desk to enjoy and adequate lighting is basic. The rest are added to create pleasurable sensations: the end of the day, decorate dream library.