The arrival of a newborn child to the house is a unique and exclusive in life. It is a time of great joy but also of great concern. One of these is usually to assemble of all things of the newborn with nursery decorating ideas and all you need this nursery to give him a warm welcome. So today we look at some tips for decorating nursery.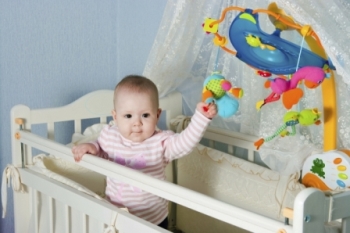 Why it is important for decorate nursery?
Psychological studies claim that children from birth are a sponge taking sensations. Everything that is around they are struck completely and therefore it is essential to be very careful about it.
Choosing colors for decorating baby rooms is important because it is a stimulus to those who first appreciated, then the very form of things around him, including materials and textures.
Anything that can promote the development of the senses has to be taken into account for growth and decorate your baby's room. In addition, the child's mother must feel comfortable in this room, so it is important to plan well before the baby arrives home.
Ideas to decorate the baby's room
Cribs
One of the considerations that you can make when buying a bed or crib is the ability to take advantage of better and longer. So maybe you can choose from the crib models whose dimensions are not too small. Or you can buy a convertible crib that adapts to the size of the child as he grows. This will allow you to have a solution for the first years of your child's life.
Cabinets
Always think of a wardrobe and a cabinet to place all those everyday things of your baby. A hanger on the wall is also a good way to put toys or other items that give more vibrancy to your bedroom.
Colors to decorate nursery
The colors are the highlight to decorating baby rooms. Always opt for the blue and pink, but we advise you to go beyond these simple tones. Our recommendation is to use them in basic shades and add colors to textures so that the nursery is more alive and more attractive to the eye.
Textures stimulants
To avoid saturation of colors used to decorate the walls textures, with graphics and simple lines. Try decorating with patchwork, if you want something different and exciting. Since then to advance their knowledge you can opt for custom forms and other animals. Also, consider a rug for the room, and that over time can be an ideal surface for baby to walk and exercise your movements.
A child is a gift. Give all to enjoy this stage of life as important to them from the point of view of the discovery of the things that is so important at this time. His bedroom has to provide the dream but also make life peaceful and happy all the time.