Today we will show you a romantic decoration of how to decorate room for a romantic evening to use at any time or to acclimate a special day, such as Valentine's Day. An original way to turn around a relationship is to have different types of appointments with your partner, and one of them may include both stay in the room to enjoy each other's company.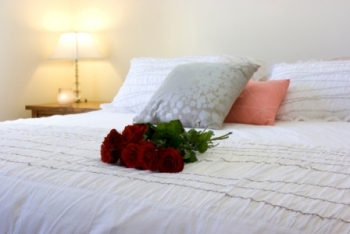 Romantic room
Creating a romantic atmosphere to your room should not be a difficult task, just change some elements and keep in mind that everything is going to be in the room to do that are both comfortable and conducive to romance.
The main thing you must do before using any of the tips that we'll mention is to clean the room, remove all clothing, shoes and items that may be out of place and then clean with a product that leaves a subtle scent. You can also clean up with a recipe with baking soda and then use scented candles or incense to create pleasant aroma in the room.
When the room is clean, you can proceed to any of these changes to create a romantic evening.
Decorating style
If both are fans of a particular style (vintage, retro, art decor, etc.), you can be inspired in the objects used in that style and adapt to a romantic evening. For example, if you like the vintage style, you can choose linen or pastel shades with a touch of lace to make them look old (but no less sexy) or placing old framed mirrors. The idea is to mix some of your favorite style touches with the other changes to create a romantic decor.
Bedding
The bedding is one of the most important points for this type of romantic decoration, but it all depends on your taste, it is best that you use colors that recall the romance (gold, bronze or light pink pearl). Also the fabric texture is important, so you should opt for silk or satin.
Avoid placing many accessories (cushions, pillows) on the bed, leave as free as possible and add just a touch pad like a heart, rose petals or some fabric a contrasting shade to the sheets.
Lighting
Low lighting is perfect for a romantic evening, and in this case the candles will be your best allies. Put them in several sites of the fourth (following safety measures) and let it be the only source of light in the room.
Accessories
Place small details in the room is the final touch for a romantic decoration: a small bouquet of flowers, mirrors and soft music are supplements that will give life to the romance in your room.