There are plenty of Valentine decoration ideas, with a significant amount of elements that are a must if we want to have a romantic decoration for this date. But it is also possible to give an original touch to not repeat ourselves. So we will see how to do Valentine decorating, with some simple and romantic tips.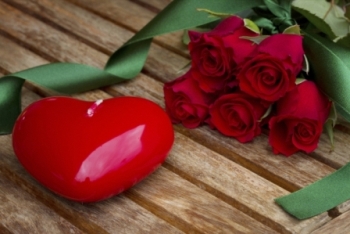 Flower arrangement for Valentine's Day
Many of us may be thinking of the decorating ideas with flowers. A bouquet of roses or bouquet of delicate flowers is typical for gifts and Valentine arrangements. But the idea is out of the ordinary to decorate for Valentine's Day with original floral arrangements.
You can leave out the typical vases and look more original containers, fill them with stones and shells. If you use these floral arrangements to decorate the table, you can find heart-shaped containers in which to place a fine selection of flowers, and put the arrangement together with some decorative candles for the table to be decorated with lots of charm.
Valentine's Day decoration with candies
You must not miss the chance to decorate with candy. These Valentine's decorations are ideal to place in almost every corner of the house and celebrate this particularly romantic day.
You can go to a candy store and choose a myriad of Valentine candies, licorice, gum, coated almonds, etc. Find especially sweet heart-shaped, of the most varied colors. Put them in baskets or glass containers, and use them to decorate your dining table or place in the hall to console and waiting for your visits and, why not, to decorate the room with a romantic touch of sweetness.
Valentine decoration with candles
How to do Valentine decoration without repeating? No more boring with old white candles and candlesticks! We know that decorating with candles is ideal for a romantic evening, but we can move from the old ornaments and find new ways to old ideas. Therefore, use decorative heart shaped candles or make an arrangement with Valentine candles.
For example, you can fill a cup of coffee seeds and place a red candle in the center, and garnish with red hearts arrangement trimmed in plush or other material. You can help the candles for a romantic dinner or to decorate the room and create an ideal atmosphere for Valentine night.
Valentine wreaths
Throughout the year we often think about how to make merry and make clear our way to enjoy these occasions. Valentine's Day is no exception, so show them what love and romance is in your house with a romantic heart-shaped wreath to decorate the door. It is a simple and effective idea for Valentine's decoration.
Well, we showed you how to do Valentine decoration revisiting some well known ideas, but with a touch of novelty. You only need to give your personal touch and a bit of imagination.