If you are already planning the evening of Valentine's Day, or just want to surprise your other significant with a romantic evening, probably wondering of ideas for a romantic evening at home.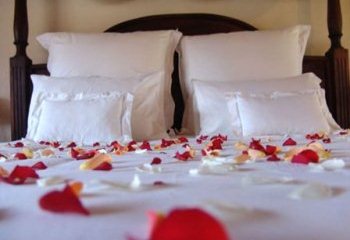 Planning a romantic evening is not as complicated as one might imagine, is a matter of taking into account some simple tips to make everything perfect and harmonious.
Candles, flowers and a nice dinner are the key ingredients for a romantic evening, let's see some more.
How to prepare a room for a romantic evening:
Prepare the room
Helium balloons: For a romantic and full of sweetness, helium balloons in red, pink and white air can bring different and original.
Rose petals are a must to give that special touch, but avoid placing them on the floor or where can stain the carpet, couches or bedding.
Flowers: They are not optional, they have to be, and no matter if they are roses, carnations or flowers picked from your garden, and the flowers will bring a touch of delicacy and romance to the ambiance.
Create the atmosphere: The creation of the atmosphere depends on several factors, the setting and the lights for example. So to create the mood wanted there to dim the lights, light candles, and play music and deodorizing.
Romantic dinner
Without a romantic dinner the evening isn't complete, so time to think about dinner you may seek to place the table in a separate location which is customary, for example, if you have balcony this can be the perfect place.
To dress the table you can choose to place mats or a red tablecloth.
Romance is the theme of the day, so do not forget to place flowers on the table, candles, flower petals, or some special touch.
When choosing dishes opts for the best and left aside dishes that use every day. More needless to say that chocolate and sparkling wine cannot miss on an occasion like this where romanticism is skin-deep.
Do with a desire to continue decorating your home for Valentine's Day? Then you cannot miss our section of Valentine's Decor where you will find a wide variety of ideas for this date in the most romantic way to enjoy.