In the recent days rustic decor in environments is being increasingly used. If you feel you need a closer contact with nature and a simpler style these rustic decorating ideas may be for you. This turn has recycling options being more economical decor. Here we give you some tips so you can have a rustic decor in your rooms.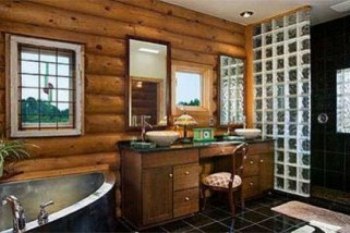 The rustic home decorating ideas are the integration of nature with the house. In this type of decoration, the color and texture go together. They look natural and earthy colors, wood construction and eroded stone and the furniture usually has a natural wood color.
The paintings on the walls have to be in pale colors and pastels. The furniture does not tend to varnish and terminations do not have much dedication and often seem built with logs. Best to look, the rustic furniture is going to a flea market where you can find affordable furniture. Try to find pieces with natural or worn finishes. This will give you a super rustic touch to any room.
A piece that is perfect, it could be a cut tree trunk as tea table, and it is undoubtedly the most famous piece about rustic decoration and of course it will be very economical.
The rugs are a great accessory, tend to be rounded and may simulate an animal print to decorate your living rooms. The wooden boxes are also a fundamental and very practical accessory as the more natural in decor the better. Try to get old appliances such as lamps, mirrors, chandeliers or whatever you find that you can increase your rustic home.
If you don't have time to search for rustic accessories and furniture, a good option is to search among the houses of furniture sale as there undoubtedly will have a wide range of rustic furniture.