Loft interior design ideas are emerged as a trend in the late 60s, in the United States. Loft style decor arises from the reuse of large industrial spaces, buildings with large open spaces that adapted to domestic lifestyle.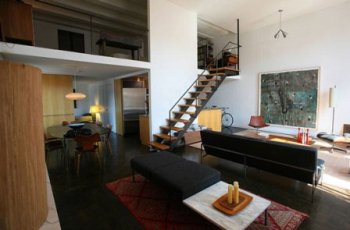 Hence further developed and there are created now loft style spaces. It is more accessible to the general public and allows for wide open spaces where housing itself is a support for a different life and style, where there are no limits. If you want to know how to do this in your house or apartment, then we will see how to decorate loft style.
Features of loft decoration
Loft is not necessarily a concept applied to a type of space with specific dimensions, it is more of a design trend applied to a conception of space: open. A place where divisions are the essential and defining those objects is rooms and split spaces are considered as loft.
Mezzanines
When it is a small loft, on one level, this is contained in all dimensions and function space, and that is nothing more. But what we want to talk to you about is that when larger lofts and use two floors, the second is usually seen and also a space that is used by mezzanine as a solution to not create divisions. This is the idea, fully opened, the walls are removed and visual function then this opening height dimensions are enlarged as much. This is the first scope.
Space division
The lofts are open spaces without interior walls. If you need to make divisions, resulting is mobile, such as sliding doors, tarpaulins that are collected and divisions of this style mainly on large scales.
Lighting
To foster the perception size and unlimited space the lighting is essential. Let the natural light invades everything: it is a resource that you can always use with large windows through which to penetrate and then at night can be more intimate environment. The white space is another range enhancer. The mirrors also increase the feeling of light and space, always keep them in mind.
Style decoration for lofts
The style should be minimalist, especially for the choice of furnishings and color treatment, combined with natural materials of construction: bricks, concrete and metal, in some cases such as columns, ceilings, etc. Remember, it is the factory style. Choose modern and functional furniture, a lot of comfort, spacious.
These trends are increasingly followed by the flattering appearance as they have. Even, they are widely used as resources for artists of home interior decorating. Decorate loft style meets cutting-edge style, fashion for public resources or not: it is for everyone. Use this very refreshing interior design trend.