To decorate a small bedroom, it is necessary to take into account many important points, perhaps the most important is the size of the space because we must begin to identify what features to favor and against which we have to choose the color of the walls or the size of the furniture.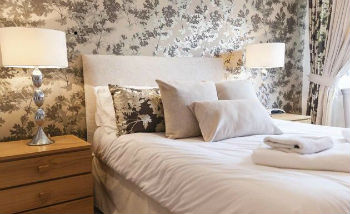 Now, I will suggest some modern style bedroom ideas to decorate a small bedroom modern style and get a room that is cozy and comfortable, despite space limitations.
Modern decor for small bedrooms
To decorate a modern style small bedroom need to know that this type of decoration is characterized by the minimum of detail in both the accessories and furniture. It is also essential that the color scheme you choose add visual interest.
Small room color ideas
With the help of a color palette there will be possible to determine the colors of the walls and the furniture, remember that they have to harmonize. An excellent combination is the choice of dark colors like browns and blacks with whites, creams and beiges as they create contrast and help define the modern style decor.
Also remember that light colors not only give depth to the space but also help you to appreciate a more spacious room and enhances the natural lighting.
Small bedroom furniture and accessories
Select the required quantity of furniture, such as beds, bedside tables, dresser or closet (if it is not embedded) and some additional sofa, remember that less is more and the fewer elements in the bedroom is a more spacious feel.
It is also important to put a minimal number of decorative accessories such as lamps, table and others. Do not overlaod the room!
Decorating tips for small bedrooms
First place larger furniture like the bed or dresser and then starts to locate the smallest as bedside tables.
Place light fixtures with warm bulbs for a cozy space.
Being a small bedroom, you need to stay clean and maintained while not store items that create clutter.
Decorating with artwork or photographs. This is to add warmth to the decor, but are not too many accessories.
If you have windows, try the curtains remain open during the day to allow natural light.
These are some of the tips that will help you to decorate a small bedroom modern style. Anyway, remember imprint your own ideas to create a personal space.