The decorating rooms is very important as the bedrooms are a place of relaxation after a hard day's work or completing various types of activities. Therefore, I propose some room decorating ideas and start creating your own place.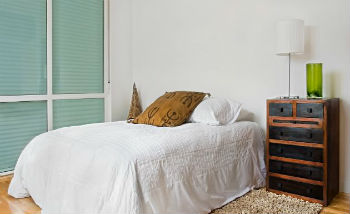 Remember that being connected with the room decorations and feel a warm room helps you rest peacefully!
Define the style of decoration
Before choosing paint, furniture and decorative accessories it is necessary to define the style you want to decorate the room. That is, if you prefer a stylish and elegant or traditional print in the room.
Also, if you intend to prioritize spaces, you can choose something minimalist  with clean finishes and necessary furniture. Although, if you cannot spend so much on interior decoration, then use what you have and get rid of what's left while you acquire some new, affordable accessories.
Color chart for decorating
When choosing colors to paint the walls of the bedroom, you can help with a color chart to begin and to define those who will use the space. In addition, changing colors is the easiest and most economical way to give a new style to any room.
Likewise, you should choose colors depending on the style you want to define the decor of the bedroom but also in the size of the room, because if it is a small room there need light color and natural lighting to give the feeling of a larger space.
Choosing furniture
Before buying a new cabinet you should consider the capacity or size of the room. The main idea is to choose furniture to go with the proposed style but do not overload the space with furniture that is not going to use but, on the contrary, which it is used wisely.
For example, if it comes to decorating a small room, it is advisable to use multifunctional furniture like beds with storage spaces or drawers. And to choose the location of furniture is necessary to consider the space between the windows, doors or corridors circulate freely around the room.
Decorating accessories
Combining decoration with accessories that highlight elements in it and go with the style that was chosen from the beginning. To make this room a little more relaxed and cozy room, place photographs (black and white, color or a combination of both) in space.
Also to give a sense of nature you can add some potted plants from indoor plants to natural flowers. To complete the decor, add decorative pillows if you have individual or bed furniture.
When we look at some ideas for decorating rooms often thinking about how we adapt to our room and print personal opinions, that's the best we can do, but we must take into account the space of the room and lighting.
You may also want to know on how to organize your room.