There are infinite styles to decorate a room. The home decorating ideas are determined by the height between the floor and ceiling, the size in square meters, the amount of light, which in turn is determined by having windows, or other factors and aspects that have the room.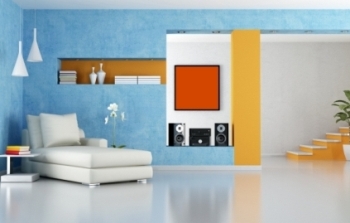 Then there is our own choice, to decide if we want vertical lines to elongate the area or if we paint the walls white for increased lighting in the room, among other things.
If you are thinking about how to decorate room with different heights to give more versatility to that area of your house, in this new article we hope to help you with any doubts that you may have of room decoration.
Lighting of different heights
We can put a chandelier in the center to light up the room but also add small lamps that give a touch of site versatility. Not all lighting must be in the same place.
Another idea is to place chandeliers or flush floor lamps at different heights. This added to the contrast with the furniture give a sense of different heights that make it much more dynamic the decor of the room.
Locate art paintings
Like the lighting, we can locate the pictures of art so that not all meet the same line. That is, one can be placed above others to give dynamism and verve to decorate a room with different heights.
Also, the DIY home decor with paintings is a kind of support not only for decoration, but greatly influence the lighting. It is therefore imperative that integrate and combine everything.
How to place furniture
The first thing to do is to completely empty the room, so you can think more clearly, and knowing the space you have, how to place the furniture to give a best possible location.
After you decide the focal point, that is, where you expect to be in that area over the attention in the room and there he put the furniture-according to you-is chosen to occupy this privileged space.
Ah! Remember that the focal point can be a piece of furniture but also a fireplace or even a window overlooking a lovely garden. Decide for yourself and make an indescribable feeling!
Finally, for the location of the furniture should avoid it look and feel like a maze. It's obvious, but many people want to put a lot of furniture to end up ruining a great room.
We hope these tips to decorate a room with different heights will serve you well.