A house that claims to have a modern must have a modern bathroom to match. To achieve it does not require a large investment. This type of modern bathroom decoration emphasizes elegance and features of a minimalist design. If what you want the cutting edge decor, you must not miss these tips for modern bathroom design.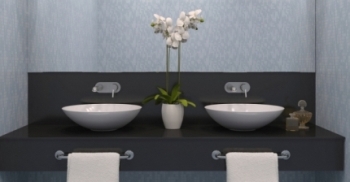 At first glance, it may seem difficult to achieve a design of modern bathroom, but here we will show you some tips to help you achieve a very simple contemporary bathroom design. Pay attention to these ideas to make your bathroom as a modern bathroom.
Modern bathroom decoration
Modern bathroom furniture
You should choose furniture for modern bathroom with clean lines and a large space for storage. If possible try to be white or dark wood. For your pool, you can choose a color edge as a bright turquoise or black. Another option is to choose materials like granite, stone or glass. Be sure to choose faucets that are stylish and contemporary, with clean lines.
Modern bathroom tile designs
For the tiles, it is best to choose tiles in white or gray, and if you want to add a touch of shocking to modern bathroom design, you can use glossy black tiles. If you prefer to add a natural touch to the design you can choose flagstone tiles, it would be advisable to use the small rectangular. Regardless of the tone of tile you decide to use, remember to avoid the classic square tiles as they are not appropriate for this type of design as these are just for being classic, to be a modern look, try for rectangular tiles.
Modern bathroom wallpaper
Consider adding high impact wallpaper. Remember to choose wallpaper that is resistant to moisture, if you do not want to spoil. The wallpaper is a great way to add a break in straight lines, features of modern design; you can use it as an excuse to incorporate with the nouveau style art that blends well with the modern.
Towels and accessories
You should add color to your bathroom by using towels and accessories. The colors that go best with a modern bathroom design are the primary colors (red, blue and yellow) because in a modern design, the matter is the purity of each element. If you do not resist and want to incorporate secondary colors (orange, purple and green), you can, but make sure they are flat colors, no prints. To give proper completion to the design you should put soap dispensers, tooth brush holder and storage boxes of stainless steel or dark color wood and towels.
You can try these tips and you'll have a chic modern design for the bathroom. If this style is not your thing, you can try a rustic bathroom design.