The leather garments are a must in the closet of most people, and the leather jacket is usually preferred. As all clothing, it has its special care to keep it in perfect condition for much longer.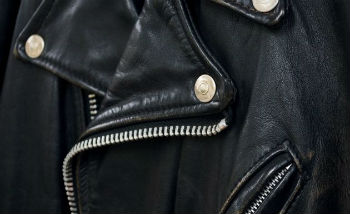 You can follow the following tips that will give on how to clean leather jacket and see that you can keep them clean and free of odors through the years.
Regular care of leather jackets
The leather jackets only need an annual cleaning (unless it spotted), but to make sure it is in good condition and will last for many years, you can take certain preventive measures to care for leather jacket.
At the time of purchase your leather jacket, you should spray it with a leather conditioner.
Immediately remove any stains that might leave a greasy residue on the leather.
You must always keep your leather garments hanging, this prevents cracking.
Cleaning leather jackets
As for leather jackets cleaner, to clean a leather jacket you will need to have on hand a small vacuum cleaner, warm water, mild liquid soap, sponges, cloths, and if possible a leather conditioner.
Procedure
Start by cleaning the inside of the jacket, for this you can use the vacuum cleaner, this will help you to remove all the dust and debris that may be inside the jacket. If you need to remove a bad smell, mix warm water and baking soda, and passes this mixture with a sponge in the area in need. You must then remove the excess with a sponge and water.
Add soap in warm water and gently clean with a sponge the surface of the jacket. It is important not to rub the sponge hard as it can damage the material, you should only pass it gently.
Then you must spend another sponge dampened with water only. This will help you remove the soap from the jacket. Spend this sponge as often as you think necessary. To remove excess moisture that may be left, you should pass a dry and clean cloth over the jacket. Remember not to do much friction, just to remove the moisture.
Let the leather jacket dry completely (you can leave it hanging one or two days in the shade) and apply leather conditioner. This is an easy way to use the product that will return the necessary moisture to the leather.
You can use these leather jacket cleaning tips and apply them to the care of leather garments.