When it is to decorate home, perhaps the color in your home can scare a little and so we always choose for decorating in neutral colors because they are the safest when combined with the furniture and decorative elements. If you are someone who want to add a touch of color to the home and do not know how, I invite you to keep reading the color ideas to find out how to use color to decorate the home.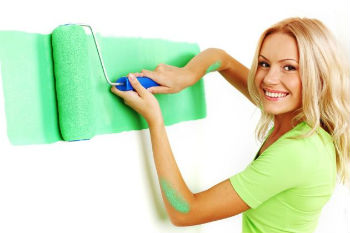 Color for your home
Adding colors in interior decorating home does not mean that you should use the full range of known colors or that your home should look like a carnival, rather it is to put some of the colors that are complementary to the rest of your home decor. Check out the following tips and use the one that best suits your needs.
Highlight the walls
An easy way to add color to the walls is to choose a wall that is the focal point of the room and place wallpaper or adhesive vinyl designs, or a fabric with a contrasting color to the rest of your walls. The advantage of this technique is that you can change the color and / or design of the wall every time you want by changing the paper or fabric.
Another way to add color to your walls is to decorate with paintings or using color photographs. Try these elements that contain a wide range of colors to several places in an area of the wall, so that all the attention is focused on that area.
Furniture
You can convert your old wooden furniture to decorate with colorful works. You just have to paint some furniture with the colors of your choice that adapt to the overall decor. You can also make use of colored cloth to cover some furniture that gives the touch of color with shades.
Nursery
Although you may emphasize, perhaps to decorate the nursery with cartoon characters and colors according to their gender, you can go further and seek inspiration in their works.
Look at the drawings of your kids that they do a mural in their room, or consult with them how they would like to see their room to be decorated, you will be surprised with what they have to say in terms of decor and maybe you can adapt some of their ideas to other environments of the household.
If you like to use color in home decor, you will see these tips of colors in decorating be useful when decorate the home.