Home safety for the elderly is very important as people get older, they need to adapt with certain parts of the house to avoid accidents and facilitate accessibility. If you wonder to know how to care for old people, keep on reading as in this article we will discuss about the most sensitive zones of the home and how to fix it to care for the elderly.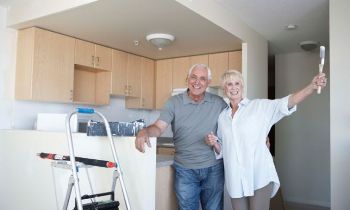 Bathroom and toilet
Bathroom is one of the areas that require greater investment if you have bathtub. To avoid falls and easy accessibility, it is advisable to replace the bathtub with a shower tray, if possible, ground-level or use elderly bathtubs. You will have to use different accessories such as non-slip mats or grab bars in the toilet and the shower. It is worth to remember that if there is an electric heater in the bathroom, it is ideal to turn it on for a while before taking shower and disconnect to turn it off during the bath.
Hallway and stairs
We have to be careful with carpets in the corridors as that can carry more than one stumble. If we cannot remove them, it is best to fix them and always give light where there is no sufficient clarity. This same thing happens on the stairs, where you have to place a handrail and switches at the beginning and end of these so you can always turn on the light.
Kitchen
What is needed more than reforms in the kitchen is a good organization, something that can be applied to every household (whether elderly or not). For this reason, we will put the materials in this area which is needed at every moment to carry out the kitchen activities and that are usually used such as dishes, glasses, cutlery and pan, etc. In addition, you must pay special attention to turn off all appliances, for example, the ceramic hob after cooking and the gas stopcock should be closed when not in use.
Bedroom
For many elderly people the bedroom is the more intimate place in the house and the room they can go when they want to be alone. It is important to control the lighting, heating and ventilation. It is convenient to have a phone by the bed and, if necessary, an intercom or a buzzer ring. It is also suggested to be an extension of the intercom.
One of the most problematic aspects of any home is the location of objects, utensils and clothing in adequate and accessible spaces.
In the cabinets tend, the bedding usually get a place at the top level which is difficult to access for older people. Therefore, for bedroom safety it is recommended to have a couple of bedding at handy area and relegate clothes that do not use often to higher areas. In this way they will avoid to get often on chairs or ladders and ask a family member to reach them when they have to change the seasonal clothes. For people who use wheelchairs, rods for hanging clothes should be located lower.
Another key point is the choice of bed; they have to opt for bed riser (which facilitates the ascent and descent). Likewise, we must make sure that headboards, mirrors, shelves are at comfortable position and well anchored to the wall to avoid an accident.
Living room
The place where the elderly spend most of the day pass and must be personalized, i.e., decorated with objects of their choice, such as pictures, paintings, books, music, personal items, etc.
It is important to continue the programs of Radio and TV that they like. It is therefore very important that has a comfortable armchair that does not cause them pain, although it is not advisable to stay all day sitting on the couch watching television. Also keep in mind that the TV turned on as background noise can be highly detrimental to the attention, communication capacity and memory.
If necessary, must have personal headphones recommended with a remote control in hand.
The doorbell and the phone must be of sufficient intensity or have indicator lights visible from the house. Failure to have these elements can be used telephone amplifiers.
The phone must have large digits and memory to record the numbers most used by the elder.
It is important that the old man has a list of important phone numbers such as firefighters, emergency medical service and close family members to get help with any problems quickly.
To differentiate objects, spaces and elements it is suitable to use warm, contrasting colors (red-yellow – orange) as they are greater display, as opposed to blue or green.
You have to consider keeping a good lighting, as well as have fixed shelves and avoid delicate objects that small grandchildren can approach. At the end of the day the living room is often to be family meeting center and where children roam freely when they come to visit them. Therefore, avoid angle edges or use electric braziers, which can result in various types of accidents such as burns or tripping over extension cord.
In the elderly house, improvements should aim mainly three aspects: comfort, security and mobility, and this can be achieved with carefully tailored furniture, selected and well distributed.
It should take into account that the elderly dependency generates frustration, helplessness, detract the quality of life and it is gradually enclosed within a maze of impossibilities, tends to be depressed, to be isolated and sick.
A room properly adapted for this stage of life with special needs allows the elderly to a greater or lesser extent. This speaks to an increase in self-esteem, independence and dignity of the elderly.
This home safety checklist is very useful to care for the elderly.