The Merry Christmas will be around in a few weeks. Yet, don't you have decided what type of Christmas decorations to be used for holiday home decorating of your home? If so keep on reading the rest of the article as we present some new Christmas decorating trends for this year.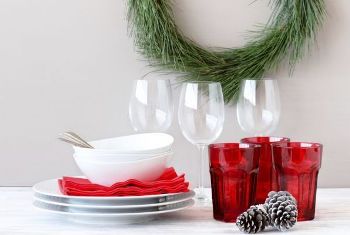 The Christmas home decorating ideas may differ from person to person as it only depend the personal taste of the individual interest. But the following style at home Christmas decorating will the general one with different taste.
Scandinavian Christmas
The Christmas of Scandinavian is mixing of raw materials (light wood, driftwood) with natural, soft and sober tones. As white is present everywhere, which will allow more light to the rooms of the home so this decor is very chic. This color is also available very easily to find in a matter of fashion and accessories like as tissue paper, artificial snow, tulle. You can combine white with silver colored materials if you wish.
Pop Christmas
To celebrate the Christmas at this year, the color pop is very trendy. For ornaments, accessories, Christmas balls, and even spruce, don not avoid this trend. You can find this trendy color effect easily with an apple green, electric blue fir or pink fuchsia. It is important to provide a little more color to each of the family parties.
Chic Christmas
This Christmas style is about for refinement. This Christmas decoration is ideal for a luxurious, precious Christmas with shades of gold and silver. Obviously, this is not only that for your dress stresses during the Christmas evenings but also it is also for light decoration for walls and fir at table. Then your house will be a magical place.
Christmas in black
The new color trend for this year is the black color. You can certainly find this color at Christmas balls. You can mix the color with red, gold, silver, or even white. You can do this unique trend with the decoration of the table, using dishes and a black tablecloth, but adding touches of light through accessories and add-ons, such as some napkin rings of red, or links in another color for decorating sconces to put on the table. This decoration brings a touch of sobriety to the whole of your house.
Traditional Christmas
It's to create a traditional Christmas atmosphere, since it intends to continue the great tradition of a holiday that is celebrated in family every year. Obviously, this kind of Christmas decoration can be so much kitsch: green, white, with the Scottish patterns without forgetting the snowmen prints. Ultimately it is to regain the dream of Christmas that we all celebrated when we were children.
As you can see at the Christmas decoration trend, there are various kinds of styles and colors. It is very important and up to you for deciding on the trend that suits your spirit, how to observe and celebrate the Christmas with your family. The combination of materials of various colors with different styles is, after all, a matter of personal taste.
It is sure that these Christmas decorations tips will help you to change the appearance of your home to enjoy the upcoming holiday season. These simple decorating ideas for Christmas are very useful for decorating home for Christmas.