The key to maintaining a comfortable and tidy home is to clean your home daily, so that never you have a complicated job for tidy cleaning. To keep aside the arduous hours of housewife, here are some easy house cleaning tips to make this work easier.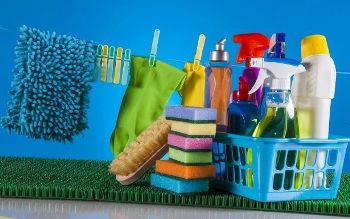 It is important to know the necessary guidelines of how to clean your home properly, so in this article, we are going to discuss the errors to avoid at keeping a clean house.
Rubbing the stains
A glass of wine, for example, spilled on the carpet in the living room may be a disgrace but can become irreparable damage if you start to rub the stain.
The smarter way to clean without causing stains is to pick up spilled liquid with a spoon and then place a damp cloth over the surface. After removing all moisture, the surface is now ready for you to apply a stain remover.
Cleaning windows on sunny days
The worst scenario case that you can choose to clean windows is during a sunny day and that following the conventional cleaning procedure, so the water dries quickly and spots are not slow to appear.
To avoid scratches and marks on the windows, try to clean them during cloudy days or after the sunset.
Cleaning marble with lemon and vinegar
When we look for to clean different surfaces of the household products, the lemon juice and vinegar are two great choices to clean. But if you are about to clean a surface of marble, limestone, travertine, or onyx are the products that you must not use to clean marbles surface.
Don't think that being organic they are lightweight, since the acid of the lemon and vinegar can be abrasive and damage natural surfaces like that of marbles.
Use as disinfectant cleaners
Not all cleaning liquid have the same objective but it is very common that we use cleaners thinking that these are disinfected cleaners. That is very frequent mistakes of innocent users.
If you need to disinfect the surfaces, then try for the product that you use is suitable for your need. Check it out by reading the labels of the product.
Failure to follow the instructions
It is important to have appropriate products and materials to clean surfaces, since you might be using a tool that is too strong for the work you are going to do.
For example, if a product instruction indicates you to use a soft cloth with the said product, do not use that abrasive one as it could damage the surface.
These are 5 mistakes when clean your home so that you must avoid and thus make more easy, practical and best way to clean your house fast.