If you have small bedrooms, you should know how to organize small bedroom in the most appropriate way to get the maximum space and avoid clutter of furniture, ornaments and other objects that obstruct the passage; subtract comfort or make your bedroom look like an oppressive Lilliputian room.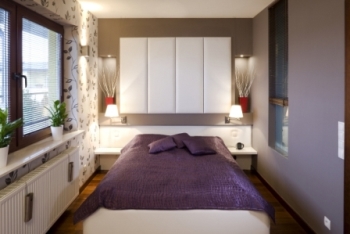 Let's see, then, some small bedroom decor ideas.
Furniture for small bedrooms
When it comes to decorating small bedrooms, it is extremely important to consider the type of furniture you choose for these spaces. If you have a small room, the dimensions of the furniture should suit the available space.
You must avoid the big and tall furniture that reaches the ceiling, as accentuate the impression that dwells in a tube. You must ensure that the cabinets, shelves and other furniture retain a certain scale.If it comes to choosing beds for small bedrooms, a good idea is platform beds. Not only for its modern lines and minimalist, which always go well with small spaces, but because there are some models of platform beds with drawers for storing clothes, blankets, etc., two birds with one stone. Integrated beds furniture is also a good choice.
You can also use furniture with sliding doors, as you will need less space to open cabinet doors.
Another trick of decoration for small bedroom is to place furniture in a corner of the room, releasing more wall surface, resulting in more spacious feeling.
Colors to decorate small bedrooms
Choosing colors for small bedrooms decorating is not science at all. Beyond all considerations we can do about how to combine the colors of the walls to the furniture and to the floor or bed, the fact is that light colors and pastel colors are best for the walls of the room.
If we are to advise a color, then we'd say you paint the walls white, because in this way the feeling of spaciousness will be higher, the light will reflect further and your bedroom will seem ultimately larger.
If you do not like the idea of decorating white, try a soft cream color. While other colors like green, blue or pink, with soft colors, can be good choices, the truth is that they are still very comfortable and relaxing, but will make the room appear smaller.
As for the curtains and blinds, it is best that the color is as clear as possible. The ideal is to stay in the range of colors used for the walls, but some colorful details will not come bad.
Warm decoration for small rooms
While there are many solutions focused on countering the problem of limited space, you should not lose that having a small bedroom can also involve the feeling of warmth and devotion that many seek in these spaces.
So our recommendation is that you arrange the room so that you can maximize space, but use small ornaments that make this room a more placid space. Decorate with pictures or family photos, use warm lighting, with accents at certain areas or corners, decorative pillows and bedding to help you feel smaller than this is the room you really want to have.
Well, we hope these ideas for decorating small bedrooms are sufficient to give you an effective solution. While decorating style is important, the ways we live and adapt spaces to our needs and more importantly tastes.