The children need a suitable place to express themselves and spend their free time, require a place where they can, indeed, be children. It is therefore advisable to decorate a room in the house to make a playroom where they can enjoy. So if you want to try for decorating kids playroom, then we have some kids playroom decor ideas that will be extremely helpful.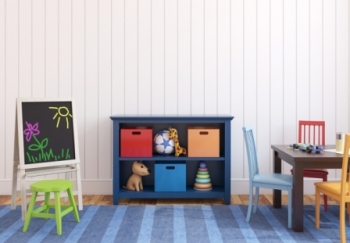 Playroom walls
The decoration of children's playroom is an opportunity to decorate freely, using color palettes, fun shapes and forms.
Decorate with a fun mural
To decorate the walls in the children's playroom, you can try to do a mural. No need of great abilities and artistic skills to paint a mural of this style, but just draw from landscapes to fun shapes that your kids will enjoy. But make sure you use different colors to make it good fun.
Decorating with children's drawings
If you decide to paint a mural for the playroom for your children, an original idea is to decorate with drawings they do. Use one of the walls of the room to hang all their creations. They would like to see their drawings hung as art on the wall and the room will have a great spirit to inspire them and let their imagination run wild.
Cork billboard
A cork bulletin board is a good idea for the walls of the playroom for kids; schedules can be hung there for them and you to arrange. You can also hang photos and pictures on the billboard that your kids will enjoy. If you prefer, you can put a metal plate with different magnets. That way you will not run the risk of your kids with the pin prick of the cork bulletin board.
Playroom floor
Carpets
If it comes to decorating a playroom for kids, it is advisable to place mats on the floor. In this way, children can play safely, because if they fall (which probably happens often) do not hurt, the carpet is softer than wood or tile flooring, so it will cushion the fall. Place fun rugs, that though they may be of traditional materials, may have designs with original figures or shapes. Another idea is to place rubber puzzle mats, which are sold in toy stores and not just serve as carpets, but also as a game for children itself.
Artificial turf
You can, if you want to lay carpet, put artificial turf for decorating the playroom for children. This original idea looks good, the kids will have fun and they will be more relaxed, it is a safe area for them. In addition, artificial turf is waterproof, so it will be really easy to clean if kids dumped liquids on it, and if there fall crumbs or anything else, you can clean it easily with a vacuum cleaner.
Seats for children in the playroom
Pouffe
The pouffe is always popular with children. They are perfect seats for placing in a playroom for children. Being round and completely stuffed with soft material, you will not have to worry about your children from falling or hurting themselves with these seats. In addition, they provide a fun look to the room. If you want a fun decoration, you can combine several different colored pouffe.
Toys and seats
If your children have toys such as wooden horses or large teddy bears, you can place these together with their chairs, pouffes, pillows that use them as seats. You should dare to give a different use for your children's toys.
Furnishings playroom
For the organization of the playroom for your children to be simpler, place drawers, dressers and shelves in which your children can put toys quickly and easily. If you do this, your kids can maintain order themselves.
Follow these tips for decorating a playroom for kids and your kids will be happy to play the kids playroom.