If you're looking to renew the kitchen with a contemporary design, the following ideas of contemporary kitchen design can serve you much.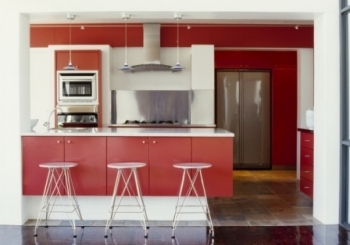 The contemporary style can be very useful when looking for different ideas for decoration, as it is ideal for those who want to decorate using minimal accessories and the mix between the classic elements with a modern touch.
Contemporary kitchen decoration
The idea is to have a large space but which demonstrates both style. The objective of using this type of decor is modern kitchen design, creating an environment where space and lighting are the main elements.
That is why you should choose light colors and very discreet accessories. The following ideas reflect how the contemporary decor for your kitchen.
Contemporary kitchen furniture
Acrylic modern furniture
The acrylic kitchen furniture is one of the most recommended options for those looking for contemporary and modern in their kitchens. In this case, the touch of brightness that gives this material is sufficient background decoration. A plus for this style succeeds contrast acrylic furniture handles and small accessories in bright metal.
Furthermore, the combination of classic and modern elements is very common in this style; reason to combine traditional wood and acrylic modern furniture is a good choice for the design of contemporary kitchens.
Wooden furniture
The modern kitchen cabinets and tables and chairs with simple designs and fine lines will help you get the contemporary look in the kitchen.
This furniture must be wood shades in clear and unadorned matte, so ideally, sleek furniture. If you opt for the wooden furniture you can add a touch of color on some kitchen accessories (blender, toaster, vase, etc).
Of course, remember to use a few accessories, and these should be as simple as possible. You can also use bright wood (varnished), but in that case the touch of color should be subtle.
More about kitchen furniture: Kitchen furniture ideas.
Colors for contemporary kitchens
As I mentioned before, the contemporary decor uses a palette of muted light, neutral colors. As this type of decoration you bet on the simple and light, ideally combine one or two colors at most. You should remember to think light shades.
Among the most common combinations found white as complementary tone of the following colors: gray, beige, light blue, light green, light brick. If you add a dark tone, ideally this is what bearing the kitchen furniture.
You may also interested in Brown decor ideas.
As you may have noticed that the contemporary style is minimalist, and its greatest feature is the use of tones that cause the feeling of lightness. If you are looking for a new look for your kitchen with contemporary design, this can be a good style to redecorate the kitchen soon.