If you can't sell your home quickly there maybe something is wrong. In this article we try to tell you some ways to sell house fast by making a few small changes that will give a completely new and updated appearance to your home.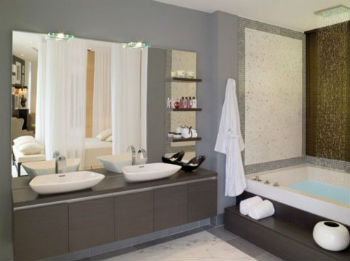 Tips for Selling Your Flat
As we tend to regularly renew the wardrobe with clothes and we adapt to the new fashion trends and don't want to be outdated, we should also do the same thing with our flat decorating.
We have new floors as the first day because we care very well, this makes inadvertently to have passed 15 to 20 years and continue with the same decoration, but many years and what was once modern old-fashioned now, by well that is preserved.
This greatly influences the purchase decision as the buyer will always choose the floor look better. With these tips for selling house quickly can give a facelift and update your house without spending much money.
Remove the colored tiles
The tile of colors and patterns were popular 30 years ago, now the style is more minimalist and serene, white, gray and some color by contrast, but without pictures or patterns.
Before the bathrooms were decorated in blue, change it and put it in white and contrasting with dark tones. If it seems too dull tones you can add color in accessories and textiles. You can find some ideas for decorating small bathrooms.
Eliminate avocado and mustard color in the kitchen
Yellow and beige colors are outmoded in the kitchens, now look for more vivid colors and more saturated, or white and stainless steel color. If you like these styles of decoration, you can decorate with vintage kitchens designs as you can find there some examples of kitchens decorated in pastel colors.
Remove paneling
The dark and heavy wood paneling make any room look outdated. Unless you have a manor house, remove all panels and paint the walls with a nice color combination.
Remove the carpet and wallpaper all over the floor
The carpets are something of 40 or 50 years ago, if not more, as well as dirty and unhygienic, if placed onto the floor for years is a very decadent, especially if you also have them on the walls. If you have old carpets on the walls and do not know why buyers fleeing your flat, just gave the answer.
Renew the bathroom and kitchen
Of all the tips to sell your flat fast, this is the most expensive and costly, but if the bathroom and kitchen floors of home were not renewed as bought it over 20 years ago, these are in dire need of renovation. The floors are revalued when reformed, so think it is an investment, not an expense.
Change the trimmings and accessories for each fashion
The floor installation is to our taste, but does not have to match the others. To play it safe look a few current decor catalogs and decorate the floor like.
Above all, it is important to change the lamps, pictures, curtains, door handles and everything worn.
Paint the entire floor
If you have no financial resources to carry out the above tips to sell your home quickly, at least paint it yourself, is something basic and mandatory.
Many think that as you are selling your flat and what make the effort. It is a way of thinking 10 years ago, when the floors removed them out of hand, now buyers can choose from many options, let yours be one of them giving light and color.
If you follow these tips of how to sell my home quickly, your will get priority from the home buyers.