Are you thinking of redecorating bathroom? If so, try for a green bathroom. There are many shades of this color to choose, pick the tone that best suits your bathroom and follow these green bathroom ideas.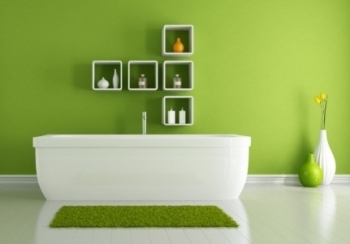 When decorating the bathroom we have many items to decorate, you can paint the walls, change the tiles, giving a touch of color with towels and even soap as an element that we can use to our bathroom decor. Here are some bathroom decorating ideas in green and try to apply some.
How to decorate a green bathroom?
Bathroom walls
To decorate the bathroom in green, you can choose to paint the walls in a shade of that color. For a quiet and relaxed atmosphere in the bathroom trying a shade of light green, mint green maybe. But if you're looking to create an energetic environment, you can opt for a more vibrant green.
Wall tiles
If you prefer to give just a touch of color to your bathroom, try making a green guard to the tiles. Another idea that looks very pretty in the bathroom tiles is applied in miniature or pastille tiles in shades of green.
Floor tiles
If you prefer to leave the walls as they are, you can put green tiles on the floor, the light reflected in them and create a warm feeling of comfort in the bathroom.
Towels for bathroom
Remember that towels should complement the decor of the bathroom, so you are suggested to put towels in shades of green, as it will be very nice when hanging towels. It is very important when you are going to decorate the bathroom in green.
Plants for bathroom
Since you've decided on the green, why not decorate the bathroom with a natural tone to give honor? Try placing small houseplants in the bathroom, or maybe some bamboo canes so that you can get a touch that the entire green room needs.
Toiletries and hygiene implementation
Take advantage of the wide variety of soaps and bath salts existing in the market. Create a basket of basic toiletries and hygiene implementing basic shades of green and place it on the bathroom countertop, this will bring a style of spa and it will make a fabulous green bathroom.
Which of these green bathroom decorating ideas you like best? You can follow our tips to decorate bathroom with green.