Are you thinking of redecorating bathroom? If so, try for a green bathroom. There are many shades of this color to choose, pick the tone that best suits your bathroom and follow these green bathroom ideas.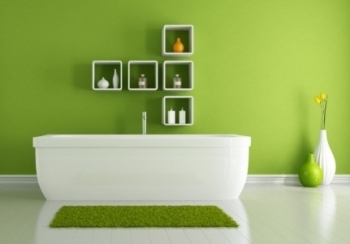 When decorating the bathroom we have many items to decorate, you can paint the walls, change the tiles, giving a touch of color with towels and even soap as an element that we can use to our bathroom decor. Here are some bathroom decorating ideas in green and try to apply some.
How to decorate a green bathroom?
Bathroom walls
To decorate the bathroom in green, you can choose to paint the walls in a shade of that color. For a quiet and relaxed atmosphere in the bathroom trying a shade of light green, mint green maybe. But if you're looking to create an energetic environment, you can opt for a more vibrant green. Continue reading "Decorating ideas for green bathroom"