If you are thinking of celebrating Valentine's Day, perhaps no better idea to do it with a special dinner. To that end, today we offer some ideas for a romantic dinner decor. We will help you decorate the table and acclimate your romantic evening for the event is a success.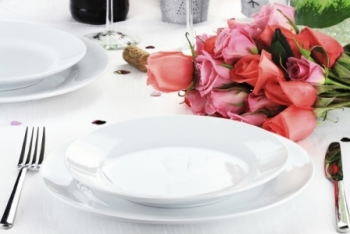 Table decorations
The decoration for a romantic dinner table is focused and preparation. Since a romantic evening involves lots of privacy, there will be adequate to prepare a small table, allowing them to stay close to each other.
There are a few colors that are imposed on the table decoration: red and pink. Obviously, these colors are associated with love, passion and tenderness. To use these colors, there are different possibilities: you can use a tablecloth on any of these colors or put a white tablecloth and book red or pink napkins, plates, table, or other embellishments.
Trimmings
At the time of decorating the table, there are infinite possibilities. If it comes to celebrate Valentine's Day, then you can expect countless arrangements and centerpieces of Valentine.
Further details and embellishments that cannot miss are the flowers and valentine hearts.
Likewise, it's time to try your hand and why not fold a napkin as a lily: the ideal decoration for a romantic dinner.
Romantic atmosphere
The romantic atmosphere prevails in several ways. One secret is in the lighting: there is nothing more romantic than a dinner by candlelight. Whether for an evening of Valentine's Day or any other occasion that warrants a romantic dinner, decorate with candles will be a success.
It is also true that the place you choose for dinner much influence. You can leave out the dining room and after dinner at a table in front of the stove or dine on the terrace if the weather permits. Exit routine will also special for this romantic evening.
You must also acclimate dinner with appropriate music and thinking about those dishes and delicacies ideal for these occasions.
You see, the decor for a romantic dinner is easy to get. Just to follow these tips to make this special night for romance. Also, there are other Valentine decorating ideas that can inspire you.