Are you going to acclimate and redesign bedroom? Then consider saying NO to the following eight things in bedroom design decor. Always it is true that you must feel comfortable with what you choose, but it never be too late to know the errors in decorating bedrooms that you should avoid.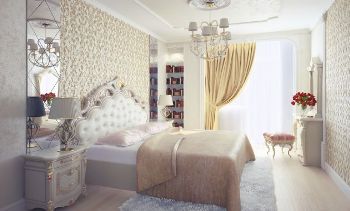 The harmony and good taste in a way often go hand in hand, so avoid these mistakes in decoration which should be little important to someone at bedroom decor inspiration.
More extra furniture
The bedroom furniture should be according to the space you have. You should select furniture that are functional and really necessary to be part of the balance you perceive when you enter your bedroom; keep in mind that it is the place where you rest, you relax or enjoy your privacy, therefore always keep in order.
Placing unnecessary accessories
The more objects to put in the bedroom will be more difficult to keep them in order and you have to clean them all and also lift them up each time you do cleaning, which can be uncomfortable and a waste of time. Select some of the accessories to create a balanced set and get rid of the rest. For this rely on the following criteria:
Things you need
Things that are important to you
The essential things
Do not illuminate the room well
The spaces with little natural light transmit certain rejection, are prone to the formation of moisture and to have smell like closure. If you cannot and you have to resort to artificial lighting, do it taking into account the use of regulators to diminish the intensity as it should never cause you discomfort. Help yourself strategically placing mirrors where light can bounce.
First choose the furniture before painting
First decide what color or what materials and shades overlay the walls, and then you can optimally adjust the rest of the accessories, decor and furniture. When choosing the paint patterns for bedroom walls, consider if there is enough natural light, so you can use it for your advantage to opt the bedroom wall colors.
Decorate opting the ultimate fashion
Take your time before you choose the bedroom style you want to acclimate your bedroom, if it is not in your plans to redesign bedroom each year, you may wish to choose a classic one so you do not get tired or go out of fashion quickly.
Buy items that don't go with your personality
Do not buy a set of furniture such that you saw in the showcase without being sure it goes with your personality; it may be very attractive but when it comes to feel part of it, there may be a disappointment.
Install low curtain
Place the curtain rods as close to the ceiling as possible, in this way will create a visual effect of spaciousness and give the impression that your bedroom is larger one.
Set all the furniture against the wall
Something very common is to place all the furniture against the wall and is today considered as an error in decorating bedrooms because it tends to be a space unused in the middle of the room. You can place two small armchairs with a coffee table, rug, or place a bed in the middle of the room.
When you go to redesign bedroom, try to avoid committing any of the eight errors in decorating bedrooms.