Recycled wood products are one of the favorite inspirations for home decor materials, as they are easy to get, and that can be used in many ways, being practical, functional and very pleasing to the eye.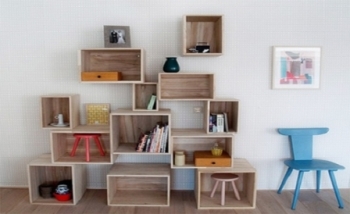 The wooden parts may come from a full box, pallets, recycled from some other furniture or separately. To paint them, cover them, cut them or join them, we will give them our personal touch, thus from recycled wood furniture, outlets, picture frames, planters and other ideas for decorating with recycled wood.
Small wooden decorations
For simple and small a decorative element, it can always play a very important role in household harmony. So when it comes to decorating, even the simplest object is valid. By recycling wood we can find reusable pieces but not for the same purpose, as this recycled wood frame, already without glass, garnish some original vases.
If we put small drawers of old furniture on the wall in a harmonious way, we can get some very practical and versatile media for either place inside in them candles, accessories or photographs. Just make sure the width of the box is enough if you put something bigger inside the drawers.
Even the natural wood serves to create beautiful vases and still life arrangements ideal for stay. Get small branches or wood slats will be simple: if you have a garden or sidewalk near your house there has a lot of decorating materials on hand.
Decorating in style
If you decorate the spaces with wooden crates there have endless uses and that are adaptable to almost any space and can be used in its natural color and detail them or to personal taste with just a few or a large collection to get divine designs anywhere in your home. A charming rustic decor with toymakers, cabinets, and shelves made ​​of drawers and original recycled coffee tables.
In the case of the pallet or palette, the possibilities are equally varied. Would you like to have an economic and minimalist screen? Or how about using the platform as the basis of a mattress or sofa? You may use pallets to make furniture and decorate the original room, dining room or any other corner of the house.
The wooden parts are affordable and cost or free if they are recycled. Both with old furniture and crates or pallets recycling, we can create decorations that are as versatile as the textures, shapes and colors of the same. With these ideas for recycled wood decor you will surely find some inspiration to design a warm and inviting space.