While we usually think of decorating stairs, we must never overlook the stair lighting. Circular by lighting on stairs allows breaking into spaces in height and where security is very important, especially at night or the dark places. But we cannot deny that the staircase light influences the decoration of the house. There are several stairway lighting options to enlighten stairs with lights of which you want to present some.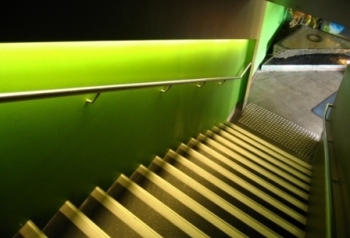 To illuminate stairs
The stair lighting must meet performance criteria. But it is also important how the lighting is and how it affects the interior. This should be considered in addition to the entry of natural light, the shadows that generate and the amount of light needed. Now we will look at ways to illuminate stairs.
Spot lighting
Externally, you can place the sconces around the staircase, recessed into the wall a few inches above the height of the stairs. No need to throw a great light intensity at all, with only a little light to enhance visualization of space and stairs will suffice. Continue reading "Stair lighting ideas"