The rustic interior decorating allows us to enjoy a warm and welcoming, bringing the natural charm of the natural domestic. Well, if we think of bringing this rustic style decor to every room in the house, we cannot overlook the bathroom as the bathroom is very important in daily life and want it to be as welcoming as the living room. Here are some ideas for rustic bathroom decor that will serve you wonderfully.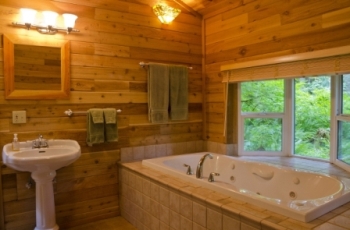 How to decorate rustic bathroom?
Well, if you think about reforming the bathroom or just want to make some changes to give it a rustic decor, there are some things to keep in mind, but get ahead something: nature, either by inclusion of natural materials and surfaces, as well as a certain palette of colors and decorative elements must be present in the rustic decoration of bathrooms.
You can achieve a rustic decor in several ways. You can make a choice from among several ways to decorate, but always based on a particular topic. If you want a rustic bathroom, you can do both if you use country style or prefer to decorate the cottage style bathroom. While we cannot define them as rustic, some relevance based on the use of natural elements and interior design offers a calm and welcoming. Continue reading "Rustic bathroom decorating ideas"